December 9, 2019
Explosion of batteries in the ERCOT interconnection queue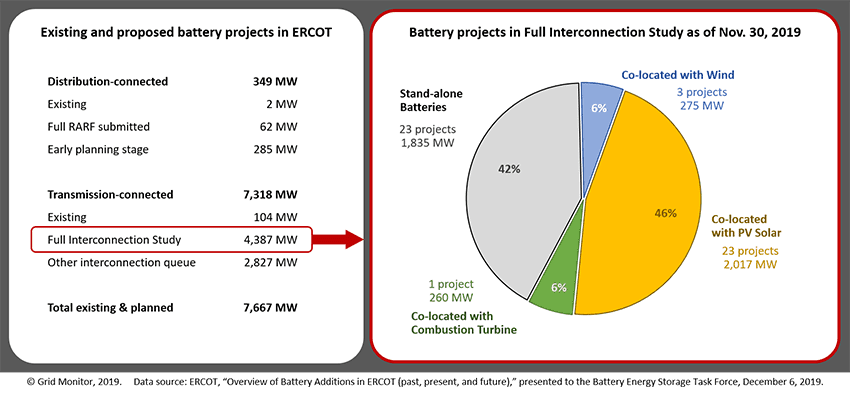 Mark Bruce
Source – Grid Monitor
Posted 12/09/2019
Encouraging stakeholders to keep their feet on the gas, ERCOT provided an update on the number of battery projects flooding into the generation interconnection queue to the Battery Energy Storage Task Force (BESTF, or "BEST Force" in stakeholder parlance) on Dec. 6. The BESTF is moving quickly to update ERCOT's underdeveloped market rules and systems for battery storage to meet the demand for battery participation in the wholesale market.
ERCOT noted an explosion of interconnection requests for battery projects in the past 2 years. On Dec. 1, 2017 there were no proposed battery projects in the interconnection process while on Dec. 1 last year there were 2,048 MW in the queue. On Dec. 1 this year, 7,214 MW of battery capacity had submitted interconnection requests, with 1,587 MW coming in the previous 30 days.
As the chart above shows, there is also significant demand for battery interconnections to distribution systems in ERCOT. Although ERCOT does not currently participate in distribution system interconnection of resources smaller than 10 MW, Staff confirmed Friday that they are developing a "parallel process" to the transmission level interconnection process to give ERCOT greater participation and insight into distribution-level battery projects.