Collect. Organize. Enrich. Update.
Regulatory information management for ERCOT
Grid Monitor collects, organizes and updates real-time video, filings and news –
with curated archives and powerful search capabilities in an easy-to-use
cloud-based platform.
It's never been easier to keep up with ERCOT, the PUCT and the
Texas Legislature.
Enjoy a fully-functional trial – No Credit Card Required
Watch a 2 Minute Summary of Grid Monitor Features
Keep a pulse on what matters
Access a comprehensive download of every filing in the system and track what is important to you.
Never miss a mention of a docket, control number, or bill and gain easy access to its specific filings, video clips, related news stories, original content, and relevant external documents.
What Our Customers Are Saying About Grid Monitor "I was able to do 20 minutes worth of agenda research in 20 seconds with Grid Monitor's integrated Smart Agenda." "Having the ERCOT Working Groups not only captured, but key docs and transcripts on one page – this is a huge time-saver." "Having the text from the audio as a search reference is incredibly helpful when I need to find certain testimony or topics." "The main benefit I initially found was the convenience of having all three relevant venues in one product. It saves so much time." "The more I keep up with the PUCT and ERCOT, the more I realize that their formal communication channels are limited, and there is a great need for third-party aggregation." "As a one-person shop, I am overwhelmed by the need to be in more than one place simultaneously. Grid Monitor helps me keep up when I miss things"
Grid Monitor Product Dashboard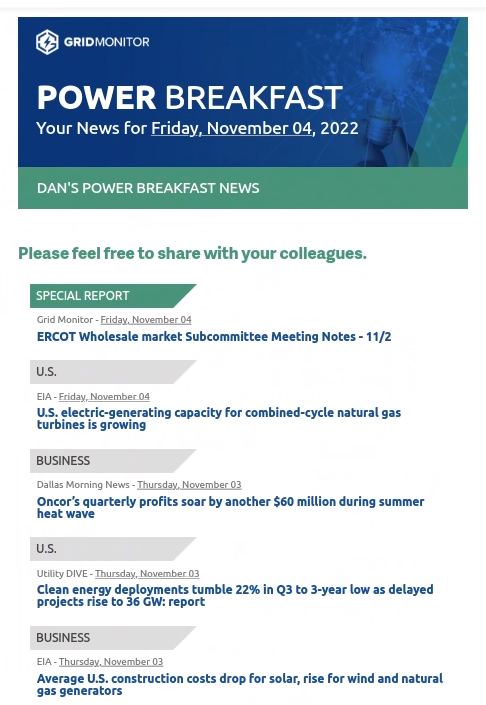 Grid Monitor's Daily Curated and Original Energy News Stories
Keep in Touch.
Sign up for Grid Monitor Updates!
Start a Free Trial Now
No credit card necessary to start a free Grid Monitor trial subscription
Copyright © 2022 GridMonitor